Item Index
From TerraFirmaCraft Wiki
This page contains content about features that are outdated, or have possibly been removed from the game.

These features only exist in older, outdated versions of TFC. This information is to be used at your own risk, as it is possible that is no longer correct in the current latest version of TFC: 0.79.29.922. It is also possible that this page is missing information regarding new mechanics in the current version. For a brief summary of accurate, up-to-date information, please check the

Changelog

.
Storage Solutions
Basic Storage
| | | | | |
| --- | --- | --- | --- | --- |
| File:Vessel Storage.png | | File:Chest Storage.png | | File:Minecart Storage.png |
| Ceramic Vessel | | Chest | | Minecart with Chest |
| Max Stacks: 4 | | Max Stacks: 18 (36 Double Chest) | | Max Stacks: 27 |
| Max Item Size: Small | | Max Item Size: Large | | Max Item Size: Medium |
| Note: May not hold certain items. 4 Vessels may be placed per block. Shift Right Click to place Vessel on the ground. | | Note: May not hold certain items. | | Note: May not hold certain items. |
Specialized Storage
Ingot Pile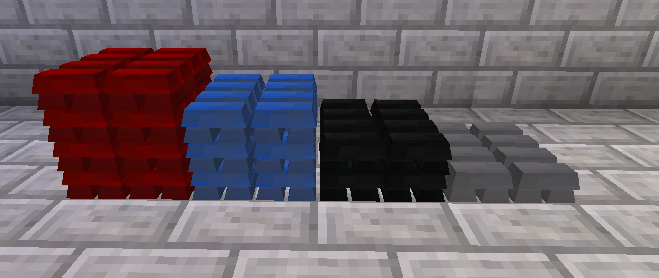 Ingot Piles are used to store Ingots. Each pile can store up to 64 ingots of one metal. To create an ingot pile, the ingot must be completely cooled and have not been worked past removing from the mold.
Note: If the ingot has been worked on an anvil, it will say so in the tool-tip while hovering your mouse over it. If this is the case, it will need to be re-melted and shaped before being able to place in a pile.
To create an Ingot Pile simple Shift Right Click an Ingot on the ground, Shift Right Click additional same type Ingots to continue building the Ingot Pile. To remove an Ingot from the Pile, simply Right Click.
Weights and Measures
Unlike vanilla minecraft, items in TFC are stored by using a system of weights and measures. Items now stack differently depending on both their weight and size modifiers, if an item is large, but light, it will stack to sixteen, this item however cannot be stored in chests as they only accepts items of medium size or smaller. At the current stage the weight modifier is only used in determining the size of the item stacks, however in the future it might be used for things such as encumbrance or other similar gameplay mechanics. Almost all items now list a size and weight in their tool-tip when you look at them. These numbers determine the stack-ability of the item and what slots are capable of holding these items.


The sizes are: Tiny/64, Very Small/32, Small/16, Medium/8, Large/4, Very Large/2, Huge/1.

The weights are: Light/4, Medium/2, Heavy/1.


The stack size chosen for each item is a combination of weight and volume.
Weight
Size
Tiny x64
Very Small x32
Small x16
Medium x8
Large x4
Very Large x2
Huge x1
Light x4
64
64
64
32
16
8
4
Medium x2
64
64
32
16
8
4
2
Heavy x1
64
32
16
8
4
2
1
Stack Size
Note: Due to Minecraft limitations we will not see implementation of stacks larger than 64 items.
Armor
Devices
Edibles
| | Name | Weight | Size | Stacksize | Stored In | Block ID |
| --- | --- | --- | --- | --- | --- | --- |
| | Alcohol | Light | Tiny | 64 | | 16979 - 16985 |
| | Beef, Cooked | Light | Small | 64 | | 364 |
| | Beef, Raw | Light | Tiny | 64 | | 363 |
| | Bread (All) | Light | Small | 64 | | 18314 - 18318 |
| | Bread (Wheat) | Light | Small | 64 | | 18321 |
| | Calamari, Cooked | Light | Tiny | 64 | | 18320 |
| | Calamari, Raw | Light | Tiny | 64 | | 18319 |
| | Chicken, Cooked | Light | Small | 64 | | 366 |
| | Chicken, Raw | Light | Tiny | 64 | | 365 |
| | Dough | Light | Small | 64 | | 18308 - 18313 |
| | Fish, Cooked | Light | Small | 64 | | 350 |
| | Fish, Raw | Light | Tiny | 64 | | 349 |
| | Flour | Light | Tiny | 64 | | 18302 - 18307 |
| | Fruits & Vegetables | Light | Tiny | 64 | | 18258 - 18292 |
| File:Grid Meal6.png | Meal | | | 32 | | 18293 - 18301 |
| | Mutton, Cooked | Light | Small | 64 | | 17002 |
| | Mutton, Raw | Light | Tiny | 64 | | 17001 |
| | Porkchop, Cooked | Light | Small | 64 | | 320 |
| | Porkchop, Raw | Light | Tiny | 64 | | 319 |
Materials
Metals
Organics
Pottery
| | Name | Weight | Size | Stacksize | Stored In | Block ID |
| --- | --- | --- | --- | --- | --- | --- |
| | Clay | Light | Tiny | 64 | | 593 |
| | Clay, Fire | Light | Tiny | 64 | | 593:1 |
| | Jug, Ceramic | Light | Small | 64 | | 17007:1 |
| | Jug, Clay | Light | Small | 64 | | 17007 |
| | Jug, Water | Light | Small | 64 | | 17007:2 |
| | Mold, Ceramic | Medium | Small | 32 | | 16665:1 |
| | Mold, Clay | Medium | Small | 32 | | 16665 |
| File:Grid Ceramic Pot.png | Pot, Ceramic | Light | Small | 64 | | 17010:1 |
| File:Grid Clay Pot.png | Pot, Clay | Light | Small | 64 | | 17010 |
| | Vessel, Ceramic | Medium | Small | 1 | | 17008:1 |
| | Vessel, Clay | Medium | Small | 1 | | 17008 |
| | Weapon/Tool Mold, Ceramic | Medium | Small | 32 | | 17011:1 - 17023:1 |
| | Weapon/Tool Mold, Clay | Medium | Small | 32 | | 17011 - 17023 |
Stone
| | Name | Weight | Size | Stacksize | Stored In | Block ID |
| --- | --- | --- | --- | --- | --- | --- |
| | Brick | Light | Tiny | 64 | | 16993:# |
| | Rock | Light | Tiny | 64 | | 16939:# |
| | Stone, Brick | Heavy | Very Small | 32 | | 2071:#, 2075:#, 2079:#, 2083:# |
| | Stone, Cobble | Heavy | Very Small | 32 | | 2068:#, 2072:#, 2076:# ,2080:# |
| | Raw, Stone | Heavy | Very Small | 32 | | 2029:# - 2032:# |
| | Stone, Smooth | Heavy | Very Small | 32 | | 2070:#, 2074:#, 2078:#, 2082:# |
| | Wall, Brick | Heavy | Very Small | 32 | | 2033:# - 2036:# |
| | Wall, Cobble | Heavy | Very Small | 32 | | 2025:# - 2028:# |
| | Wall, Raw Stone | Heavy | Very Small | 32 | | 2069:#, 2073:#, 2077:#, 2081:# |
| | Wall, Smooth | Heavy | Very Small | 32 | | 2037:# - 2040:# |
Tools
| | Name | Weight | Size | Stacksize | Stored In | Block ID |
| --- | --- | --- | --- | --- | --- | --- |
| | Axe | Medium | Large | 1 | | |
| | Bucket | Light | Medium | 1 | | 16917 |
| File:Grid Wooden Bucket (Lime Water).png | Bucket, Lime Water | Light | Medium | 1 | | 16995 |
| | Bucket, Milk | Light | Tiny | 64 | | 16919 |
| | Bucket, Water | Light | Medium | 1 | | 16918 |
| | Chisel | Medium | Very Small | 1 | | 16483 - 16493 |
| | Firestarter | Light | Small | 1 | | 16663 |
| | Fishing Rod | | | | 1 | | 346 |
| | Flint and Steel | | | | 1 | | 16962 |
| | Glass Bottle | | | 64 | | 374 |
| | Gold Pan | Light | Small | 1 | | 16257 |
| | Hammer | Medium | Small | 1 | | 16629 - 16638 |
| | Hoe | Light | Large | 1 | | |
| | Javelin | Medium | Large | 1 | | 16572 - 16588 |
| | Knife | Medium | Small | 1 | | 16929 - 16937 |
| | Knife, Stone | Medium | Small | 1 | | 16954 |
| | Mace | Medium | Large | 1 | | 16519 - 16528 |
| | Pickaxe | Medium | Large | 1 | | |
| | Prospector's Pick | Light | Small | 1 | | 16261 - 16275 |
| | Saw | Medium | Medium | 1 | | 16532 - 16541 |
| | Scythe | Medium | Large | 1 | | 16899 - 16907 |
| | Shears | | | | 1 | | 359 |
| | Shovel | Medium | Large | 1 | | |
| | Spindle | Medium | Very Small | 1 | | 16991 |
| | Sword | Medium | Large | 1 | | 16502 - 16511 |
| | Toolhead, Axe | Heavy | Large | 4 | | 16796 - 16805 |
| | Toolhead, Chisel | Heavy | Large | 4 | | 16822 - 16831 |
| | Toolhead, Clay Spindle | Medium | Small | 32 | | 16992 |
| | Toolhead, Hammer | Heavy | Large | 4 | | 16809 - 16818 |
| | Toolhead, Hoe | Heavy | Large | 4 | | 16783 - 16792 |
| | Toolhead, Knife | Heavy | Large | 4 | | 16920 - 16928 |
| | Toolhead, Mace | Heavy | Large | 4 | | 16848 - 16857 |
| | Toolhead, Pickaxe | Heavy | Large | 4 | | 16757 - 16766 |
| | Toolhead, Prospector's Pick | Heavy | Large | 4 | | 16883 - 16892 |
| | Toolhead, Saw | Heavy | Large | 4 | | 16861 - 16870 |
| | Toolhead, Scythe | Heavy | Large | 4 | | 16908 - 16916 |
| | Toolhead, Shovel | Heavy | Large | 4 | | 16770 - 16779 |
| | Toolhead, Javelin | Heavy | Large | 4 | | 16589 - 16605 |
| | Toolhead, Spindle | Medium | Small | 32 | | 16992:1 |
| | Toolhead, Stone | Heavy | Large | 4 | | 16940 - 16952 |
| | Toolhead, Sword | Heavy | Large | 4 | | 16835 - 16844 |
Wood