Straw & Hide Bed
From TerraFirmaCraft Wiki
Straw & Hide Bed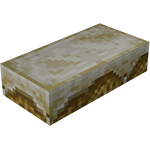 | | |
| --- | --- |
| Gravity | No |
| Tool | None |
| Stackable | N/A |
| Flammable | No |
| Weight ⚖ | N/A |
| Size ↕ | N/A |
| BlockID | terrafirmacraft:2115 |
Obtaining
The Straw & Hide bed is created by right clicking with a Large Raw Hide on two adjacent Thatch blocks while standing at what will become the foot of the bed and facing towards the head of the bed.
Usage
Straw & Hide beds are used by right clicking on them at night or during a thunderstorm. Attempting to use a bed at any other time will result in a "You can only sleep at night" chat message. Unlike the vanilla bed, straw & hide beds do not set the time to dawn; they only reset the player's spawn. To alert the player of this difference, getting into the bed will result in a chat message of "This bed is too uncomfortable to fall asleep."
Breaking the bed will drop the thatch blocks and raw hide used to create it.
History
Beta
78.0
Added the Straw & Hide Bed.
Trivia
If the language is set to Canadian English and the player gets into a straw & hide bed, you get a chat message that says "This bed is too uncomfortable to sleep in, eh?". This is a joke on stereotypical Canadian use of the word "eh."
Gallery