Difference between revisions of "User:Munin295/The World"
From TerraFirmaCraft Wiki
---
Latest revision as of 18:39, 2 June 2014
Environment
Size
Altitude
Latitude and Longitude
Biomes
Climate
Time
Day and night
Seasons
Weather
Composition
Bedrock
Stone
(layers, ores/veins)
Soil
Dirt Grass Sand Gravel
Water
Natural structures
Debris
Boulder
Lake
Hot spring
Lava pool
Ravine
Cave
Flora
Trees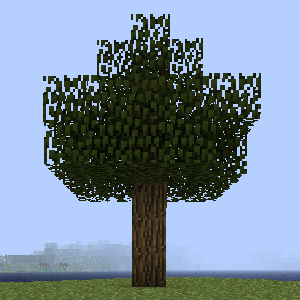 Trees are structures of wood and leaves blocks. They generate naturally during world generation and most can be regrown from saplings.
Wood can be collected by attacking one of the tree's wood blocks with an axe. The wood block and all wood blocks above it will drop wood items which have many uses.
Attacking leaves with bare hands may drop sticks and saplings. Use a scythe to attack many leaves at once.
Tall grass
Tall grass generates naturally as semi-transparent grass stalks on top of grass blocks.
Tall grass can be destroyed with bare hands, but may regenerate eventually. If attacked with a knife, tall grass drops straw which can be used to craft thatch blocks, or to construct pit kilns.
Seaweed
Seaweed generates naturally on the floor of oceans and other non-fresh water.
Cattail
Cattail generates naturally on the floor of fresh water bodies (rivers and lakes). In one-deep water, cattails break the surface to generate flowering heads; in deeper water they grow only one block high.
Flower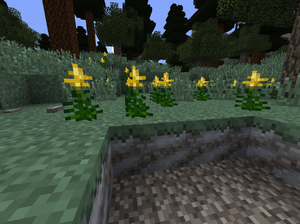 In addition to decorative dandelions and roses, goldenrod flowers generate naturally on clay.
Mushroom
Brown and red mushrooms may generate naturally under trees or in caves.
Grains
A number of different grains generate naturally throughout the world.
Vegetables
Many different vegetables generate naturally throughout the world.
Berry bushes
Many different berry bushes generate naturally throughout the world.
Fruit trees
Many different fruit trees generate naturally throughout the world.
Fauna
Animals
Monsters
Players